As part of our array of telecommunications solutions, JMI assists clients by using a flexible, low-cost approach to Data Center and IT Infrastructure Strategic Planning. The JMI team takes a pragmatic approach to strategic planning, getting to the results quickly while minimizing the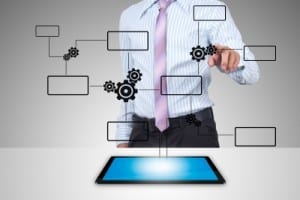 impact on consulting budgets.
We assist clients in:
• Planning a new data center or co-location facility
• Replacing an aging telecom system
• Expanding a wide area network and dramatically increasing bandwidth while reducing costs
• Developing a storage strategy in line with projected storage needs
• Increasing operational efficiency of a call or contact center
• Revising or creating a business continuity or disaster recovery plan
Data Center and IT Infrastructure Needs Analysis
Each successful data center and IT infrastructure strategic planning project is grounded in robust and detailed requirements gathering. Collecting input from key client stakeholders across IT, finance, and business operations is essential. This leads to targeting optimal, long-term solutions. The requirements gathering process should include key executives, middle managers, and key business-process owners in the enterprise.
JMI has a proven, facilitated interview process that is cost effective and timely. The Advocate Networks team quickly reaches out to key stakeholders to gather feedback and input on IT services, service levels, support, and next-generation business needs. The Advocate Networks team project leader expertly documents requirements to capture accurate context.
At this point, the needs analysis begins. The project leader will take a broad range of requirements and synthesize them into specific actionable needs that can be used to formulate future scenarios.
Data Center and IT Infrastructure Scenario Planning
Developing scenarios in strategic planning is both science and art. Advocate Networks consultants use in-depth practical experience, knowledge of key technologies, and actual client success stories to develop future scenarios for your customized strategic planning project.
• The "Do Nothing" Option – In some projects, doing nothing is an option that must be evaluated. In other projects, clients must create change. The challenge is deciding the best option while reducing the risk and cost of change. Our team helps you make the best decision for your organization.
• Innovation – A key to driving breakthrough change is innovation. Businesses looking for a consultant in strategy planning should be sure their consultant is constantly searching for and taking advantage of new innovations. As a leader in telecom consulting, our technologists are always researching new methodologies for approaching a future IT footprint and finding the best possible options for our clients.
• Education – Most IT and business executives want to see and understand a comprehensive set of options when making any decision. When considering large, multi-year data center, IT, and telecommunications infrastructure investments, a thoughtful approach for evaluating all viable scenarios is needed to ensure a credible decision-making process and defensible outcome. The secret of our process is the years of in-depth industry experience and expertise possessed by our principals, project leaders, and consultants. The Advocate Networks team will challenge you to consider new technologies, approaches, and changes when those are aligned with overall business goals.
Data Center and IT Infrastructure Roadmap Development
Once the scenarios to be considered in the strategic planning process are created, planning the roadmap to guide investment decisions comes next. During this stage, our team works with client stakeholders to build a decision analysis tool weighted with key selection criteria. Each scenario is measured and given a score using the customized tool. More than one scenario may be selected for the roadmap, and one scenario may be positioned as a bridge to the end-game strategic plan.