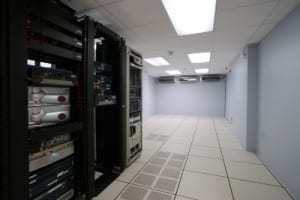 Data centers are purpose-built facilities capable of housing quantities of computer systems, data storage, network systems, and other adjunct systems. Data centers are designed provide a secure environment with redundant electrical powering, network infrastructure and cooling. Data centers are built in all shapes, sizes, and with all types of capabilities.
In today's economy, most enterprises are rethinking their plans to build or expand their internal data centers and are instead considering the use of third-party collocation data centers for their critical IT systems. Many industries, such as healthcare, are experiencing dramatic growth in their need for easily available data storage systems, along with the concentrated power and secure space to operate these systems.
JMI has extensive experience in assessing, planning, sourcing, building, and operating data centers and collocation service facilities. This experience includes assisting clients in the consolidation of large data center systems for the purposes of improved service and reduced cost, as well as sourcing new collocation services while reducing costs through competitive procurement.
Data Center and IT Infrastructure Assessment

Current State Assessment

Cost Baseline

Benchmark

Optimization

Data Center and IT Infrastructure Strategic Planning

Needs Analysis

Scenario Planning

Roadmap Development

Data Center and IT Infrastructure Sourcing and Implementation

Sourcing Preparation

Competitive Sourcing Management

Implementation Management

Project Management

Technical Engineering

Staff Augmentation